No Protection against Drowning — Extended Version
Diplom Praxis
Prof. Gunter Reski
My departure point for my practical Diplom project was well-known symbols and motifs from consumer and pop culture, which I adopted and abstracted. For my work, I used printed, inflatable bathing fun items made of plastic that I partly cut apart and reassembled. I also made use of plaster casts of the objects, so that I could further develop them as channels for plastic imagery in my painting. Filled with air, the objects suggest organic-amorphous forms that, in turn, make one think of human features and physical postures. The objects and illustrations represent a kitschy motif world, the implication being that it is idealised and therefore playing with individual feelings of yearning and desire. In so doing, the overloaded and shrill pop depictions on the objects refer to the excessive demands of today's flood of images that are ostensibly only able to assert themselves as inflated surfaces.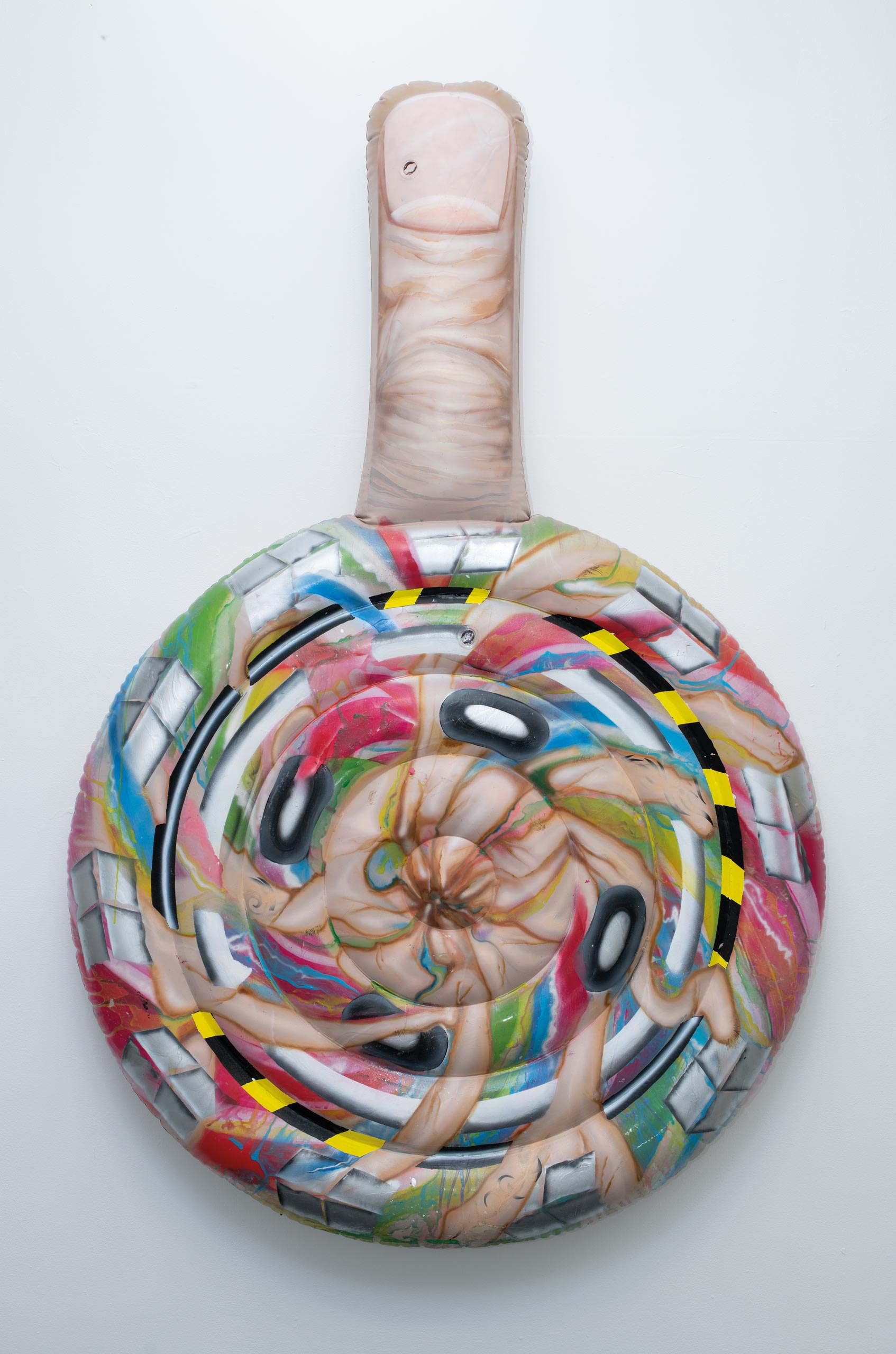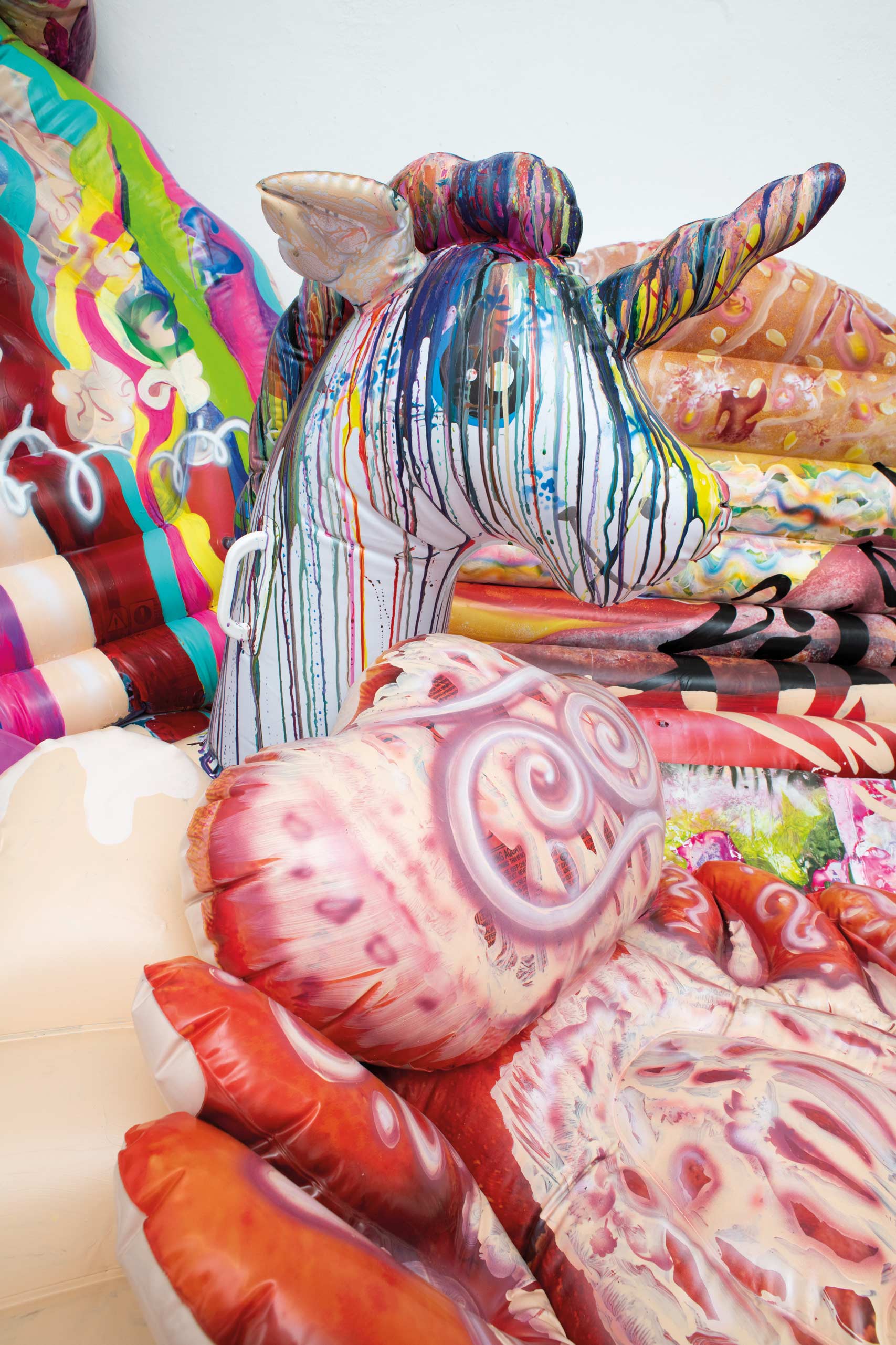 Diplom Theory
Prof. Dr. Juliane Rebentisch
As regards subject matter, my emphasis is placed on certain phenomena relating to personality profiles in social networks (Instagram) as well as their various aesthetic, cultural and socio-psychological facets. What distinguishes the personal or the self? Which aesthetic practices and codes are employed in personality profiles? How are actors and recipients impacted by self-representation on the Internet, in terms of self-perception, social relationships and aesthetic perception? With this in mind, I have conducted profile analyses on Instagram and, according to theory by Andreas Reckwitz, I have studied today's postmodern consumerist, creative subject, after which I attempted to negate individual self-representation. As a consequence, theory and practice investigate the effects that social and societal structures have on the individual.
Charlotte Lili Frieda Rahn
Geboren 1989 in Flörsheim am Main
Lebt und arbeitet in Offenbach am Main
2011 bis 2020, Diplomstudium im Fachbereich Kunst mit Schwerpunkt Malerei bei Prof. Gunter Reski an der Hochschule für Gestaltung Offenbach
AUSSTELLUNGEN
2019 bis 2020, Nicht über mein Sofa, Gruppenausstellung, AtelierFrankfurt
2018 Schmetterling, Ausstellung der Werkwoche, Video- & Soundinstalltion, mit Carmen Schwartz, Projektraum Sechs Eins, Bingenheim
2017 Konsistenz & Existenz, Gruppenausstellung von HfG Malereistudierenden, Station Offenbach, Gustav-Adolf-Straße 2
2016 bis 2017, Gout – Malerei In-/Extended, Sheraton Hotel Offenbach
2016 Coop-Show mit Studierenden der Akademie der Bildenden Künste Nürnberg und der Hochschule für Gestaltung Offenbach in der Zollamt Galerie Offenbach
2015 Within an Affine Space, Concept-Sculpture-Installation, Zollamt Galerie, Offenbach am Main
2015 Walllust, Wandmalereishow, Kunsthalle Weissensee, Berlin
2014 Die neue Hesslichkeit, Palais für aktuelle Kunst, Glückstadt bei Hamburg