KĀHEA
Diplom Praxis
Prof. Frank Georg Zebner
This Diplom work began with a consideration of the term fun. What constitutes fun? What actions bring about fun and enjoyment? What features do such actions have? Products that require or allow playfulness are especially destined to produce fun and enjoyment. The invitation to experiment can cause players of a game to become aware of various possibilities and, if necessary, alternatives. Guitarists often make use of effect pedals to experiment with the sound, but the small devices are difficult to adjust while playing. This is where my idea for KĀHEA has its origin. KĀHEA is a motion control for effect pedals. It is a system that enables guitarists to alter the sound through their individual movements.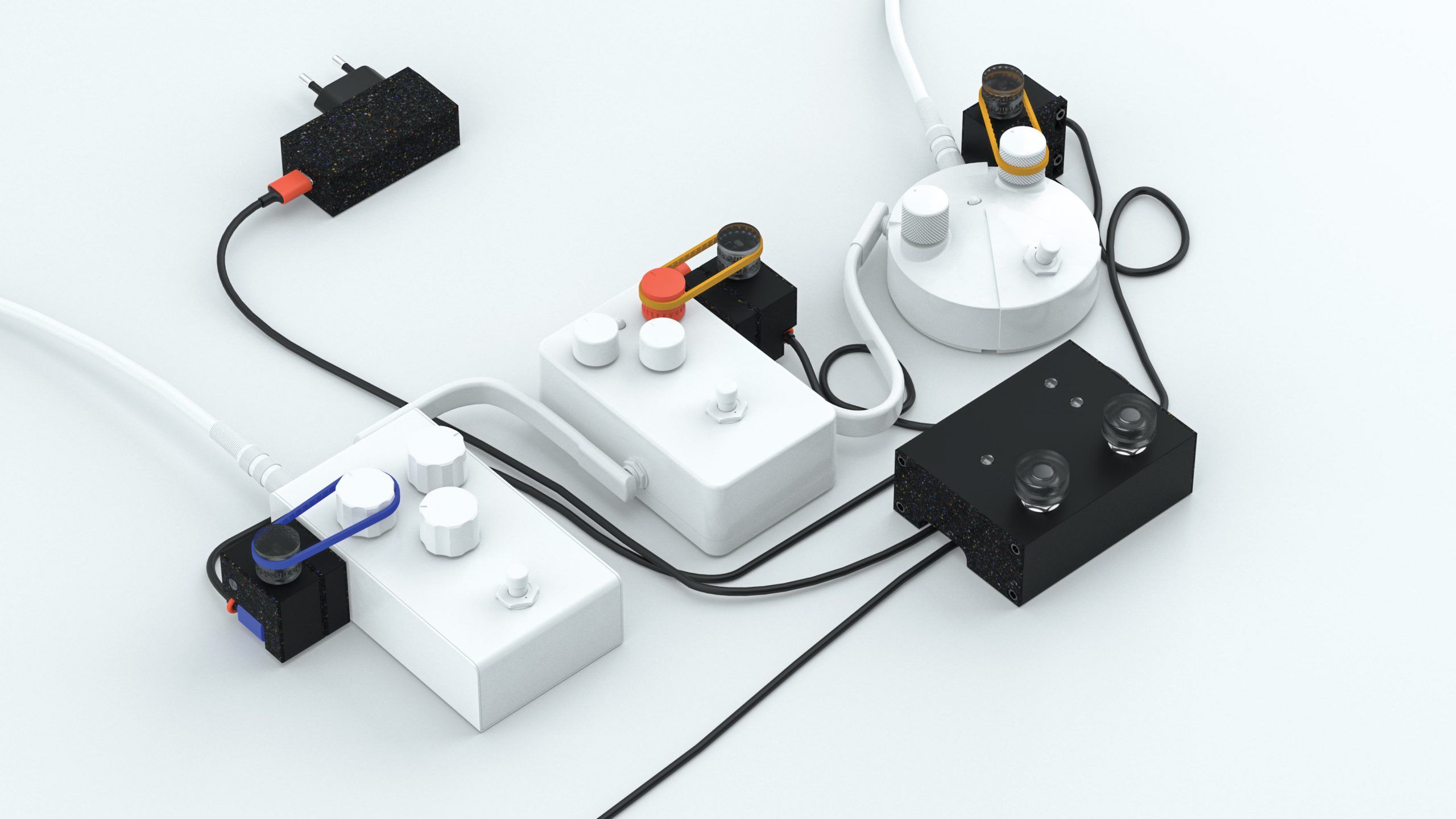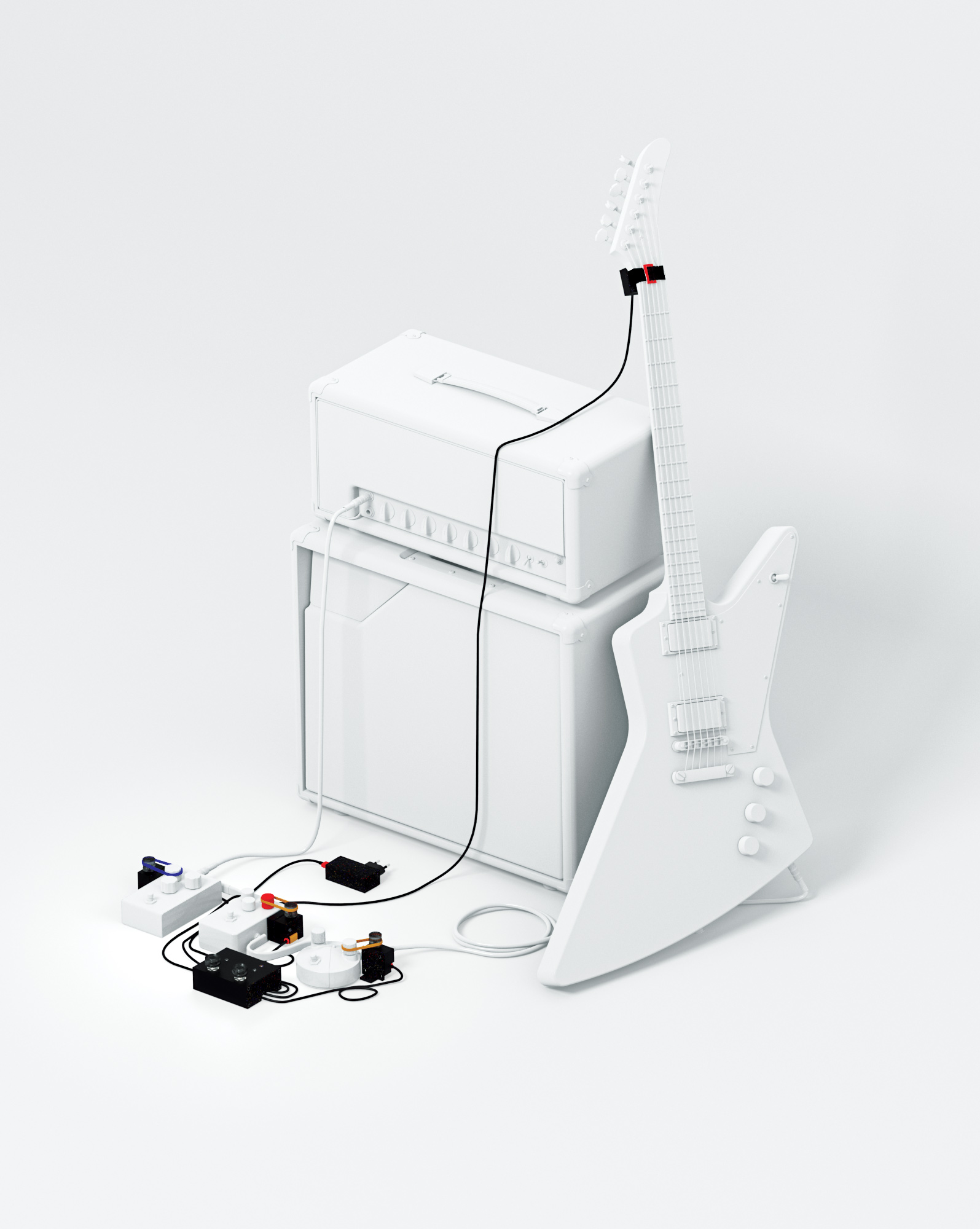 Diplom Theory
Prof. Dr. Thilo Schwer
In my theoretical work Das verspielte Instrument (The playful instrument), I focused on user interfaces of electronic musical instruments. They are mostly very complex in nature and demand a lengthy time to be understood. However, additional examples of instruments are included that reconsider the user interface through playful means. These newly conceived user interfaces with their playful approaches have had an important influence on the conceptual basis of my practical project.
Geboren 1993 in Bamberg
AUSBILDUNG
2020 Diplom an der HfG Offenbach
2017 bis 2018, Camberwell College of Arts, London GB, Auslandssemester / 3D Design (6 Monate)
2015 Vordiplom an der HfG Offenbach, Produktgestaltung
2012 Staatlich geprüfter technischer Assistent für Produktdesign
2012 Abschluss Fachhochschulreife
2010 bis 2012, Berufskolleg Produktdesign, Akademie für Kommunikation, Stuttgart
2004 bis 2010, Realschule am Schillerpark, Esslingen, Abschluss Mittlere Reife
PRAKTIKA
2018 RENNER Produktgestaltung, Frankfurt a.M., Automotive Interaction Design (6 Monate)
2017 Roland Germany GmbH, Nauheim, Grafikdesign, Marketing, (2 Monate)
2015 Schreinerei Hornbach, Frankfurt a.M., Werkstattpraktikum (1 Monat)
2013 Nimbus Group GmbH, Stuttgart, Entwicklungsabteilung, Produktdesign (6 Monate)
2010 Architekturbüro Oesterlein, Esslingen, Modellbau (4 Wochen)
2009 Design hoch drei, Stuttgart, Schulpraktikum / Grafikdesign (2 Wochen)
NEBENJOBS
2020 Create Next, Frankfurt, Interface, App, Web-Entwicklung
2019 bis 2020, Hellersulewski, Frankfurt, Interface, App, Web-Entwicklung
2017 bis 2019, RENNER Produktgestaltung, Frankfurt, Entwicklung von Konzepten, Bau von Kleinserie
2014 bis 2017, Firma Balans / Ergo Move, Frankfurt, Kundenberatung, Auslieferungen, Reparaturen
2015 bis 2017, Schreinerei Hornbach, Frankfurt, Montage, Lackierarbeiten
2013 bis 2014, Stageservice, Frankfurt, Stagehand
2012 bis 2013, Vapiano, Stuttgart, Service
COMPUTERKENNTNISSE
Photoshop, Indesign, Illustrator, Aftereffects, XD, Rhino, SolidWorks, Fusion360, Cinema 4D, Sketch
INTERESSEN
Musik, Synthesizer, Skaten, SiFi, Fahrräder, Gitarre, Fotografie, Zeichnen, Film