hidden architect
Diplom Praxis
Prof. Gunter Reski/Prof. Susanne M. Winterling
In the same way that we can be attracted to moonlight, we can also be attracted to other light sources. The distinction between original and imitation triggers confusion as soon as it becomes accessible in reality. In the work hidden architect, the relationship between bodies and surface and the accompanying possibilities arising from spatialised imagery is examined. The spaces generated for the video are based on images appropriated from science fiction films, which have been further processed using photogrammetry software. The modified and recycled spaces trigger memories of familiar film sets, while others allow us to take in unprecedented perspectives. The video installation considers questions of cinematic spatialization techniques as well as the question of the limits and the capacity for action when using software applications.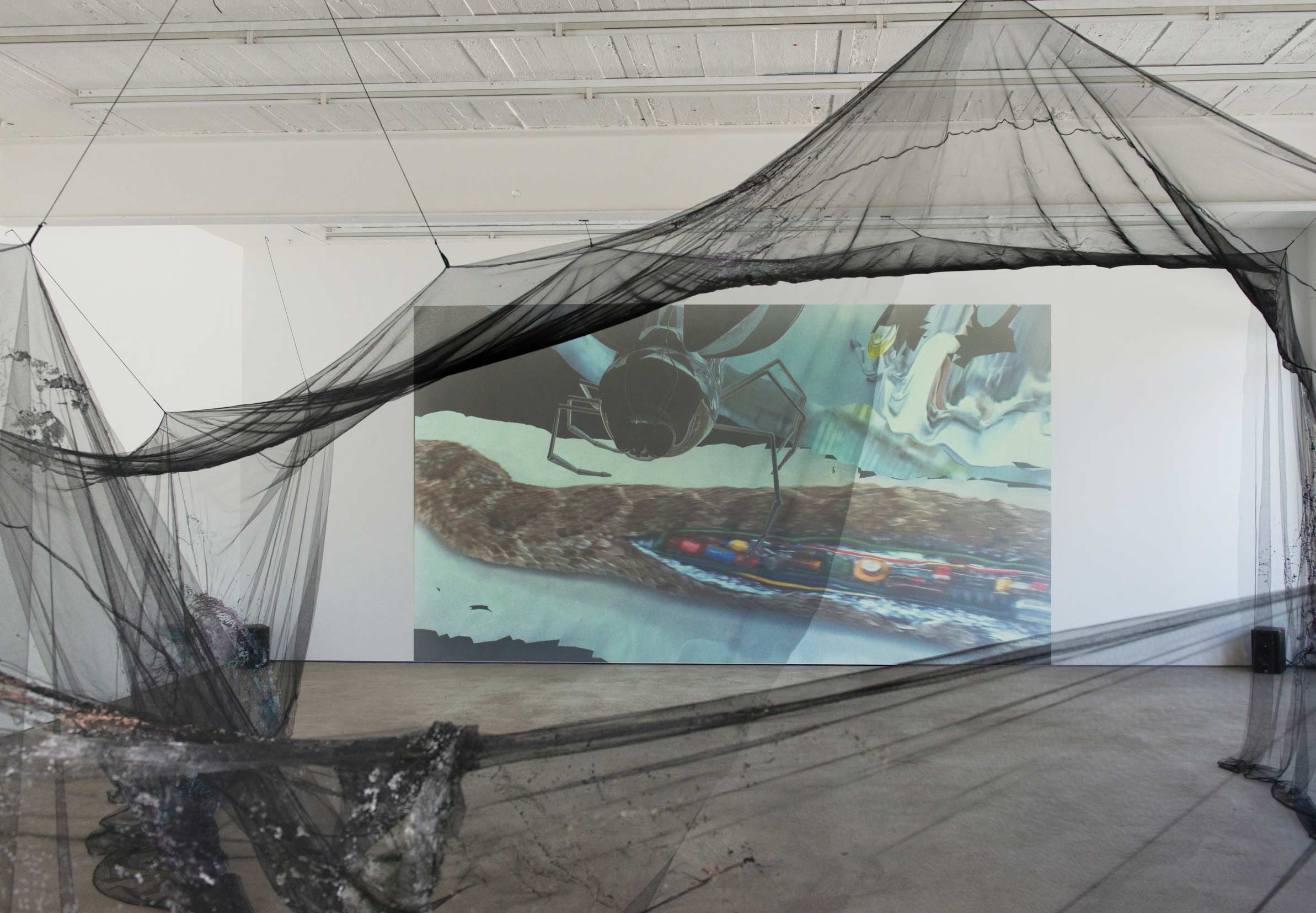 Diplom Theory
Prof. Dr. Marc Ries
The theoretical work places in question to what extent language support systems facilitate cyborgination, and how these apparently disembodied systems can conceal the merging of human and machine. For the sake of analysis, narratives, voices and bodies from different contexts were brought into play. While the practical side focuses on the visual, the theory focuses on the auditory level. The link between practice and theory lies in the study of the capacity to act and limits of software applications.
Geboren in Dissen am Teutoburger Wald
Lebt und arbeitet in Berlin/Offenbach am Main
2020 Diplom an der Hochschule für Gestaltung Offenbach a. M., Studium bei Gunter Reski, Julika Rudelius und Susanne M. Winterling
2018 bis 2019, Central Academy of Fine Arts, Beijing (CN)
STIPENDIEN
2017 SYN Award für interdisziplinäre Forschung, Residenz in den Meisterhäusern Bauhaus Dessau
2018 DAAD Stipendium, Bundesministerium für Bildung und Forschung
2019 Atelierstipendium Labor, Kunst- und Kulturstiftung, Opelvillen Rüsselsheim
AUSSTELLUNGEN (AUSWAHL)
2020 hidden architect, Kressmann Halle (S)
2020 moths as mess – Insecure carefree, Varrentrapstraße, Frankfurt (S)
2020 Touch me later – don't touch me now, raus.project, Kassel
2020 This is So Me, Opelvillen Labor, Rüsselsheim (S)
2019 Shift, Frappant Galerie, Hamburg, kuratiert von Possygang
2019 L'Arbre du Soleil, Mountains Gallery, Berlin
2019 Ghost Sensations, NEW NOW Art Space, Frankfurt, Kollaboration mit Ventolin Art Space (AUT)
2019 Ich war noch niemals in der Schweiz, xhibit, Vienna, (AT)
2019 Junge Kunst mit Zukunft, Museum Angewandte Kunst Frankfurt
2019 And This is Us, Frankfurter Kunstverein
2018 Power Problems, Cage of the Crane, Beijing (CN)
2018 88. Herbstausstellung, Kunstverein Hannover
2018 Mapping Discomfort, Sprechsaal, Berlin
2018 Material als Experiment/Vergangenheit-Gegenwart-Zukunft, ZHdK, Zürich (CH)
2018 Forschungswerkstatt, Technische Sammlung Dresden
2018 body/tech, Museum Angewandte Kunst Frankfurt
2018 Festival der jungen Talente, Franfurter Kunstverein
2018 Einsteins Spürnase, Leopoldina, Halle (Saale)
2017 Ausstellung der Residenzkünstler*innen, Meisterhaus Gropius, Bauhaus Dessau
2017 Konsistenz & Existenz, Station Offenbach a. M.
2017 Smart Materials Satellites, Stahlhaus Bauhaus Dessau
2017 Cleaning and Value, IG Farben-Haus, Frankfurt a.M.