HAPPYsitcom
Diplom Praxis
Prof. Heike Schuppelius
Beginning from an initially primary view on happiness, a theatrical installation has developed into something of no importance. The installation is concerned with a two-room flat on the 5th floor that is insulated from a residential complex and is reduced in scale to 1:12. It accommodates many entertaining tenants. The flat is a setting, which is inspired by impersonally styled Airbnb flats. The sculpture emits sound: various voices and people can be heard—echoes of individual tenants intersect each other. This approach to sound turns the flat we see into subject matter. The way in which it is layered has the result that daily contexts become trivial. Happiness is still found in having a private living space that is affordable. The demands of the people who live in the flat, individuals who are reliant on appearing outwardly happy through their acts of self-marketing, surely seem to have found contentment. Despite this, the sound of echoes emanating from the tenants causes that happiness to become irrelevant.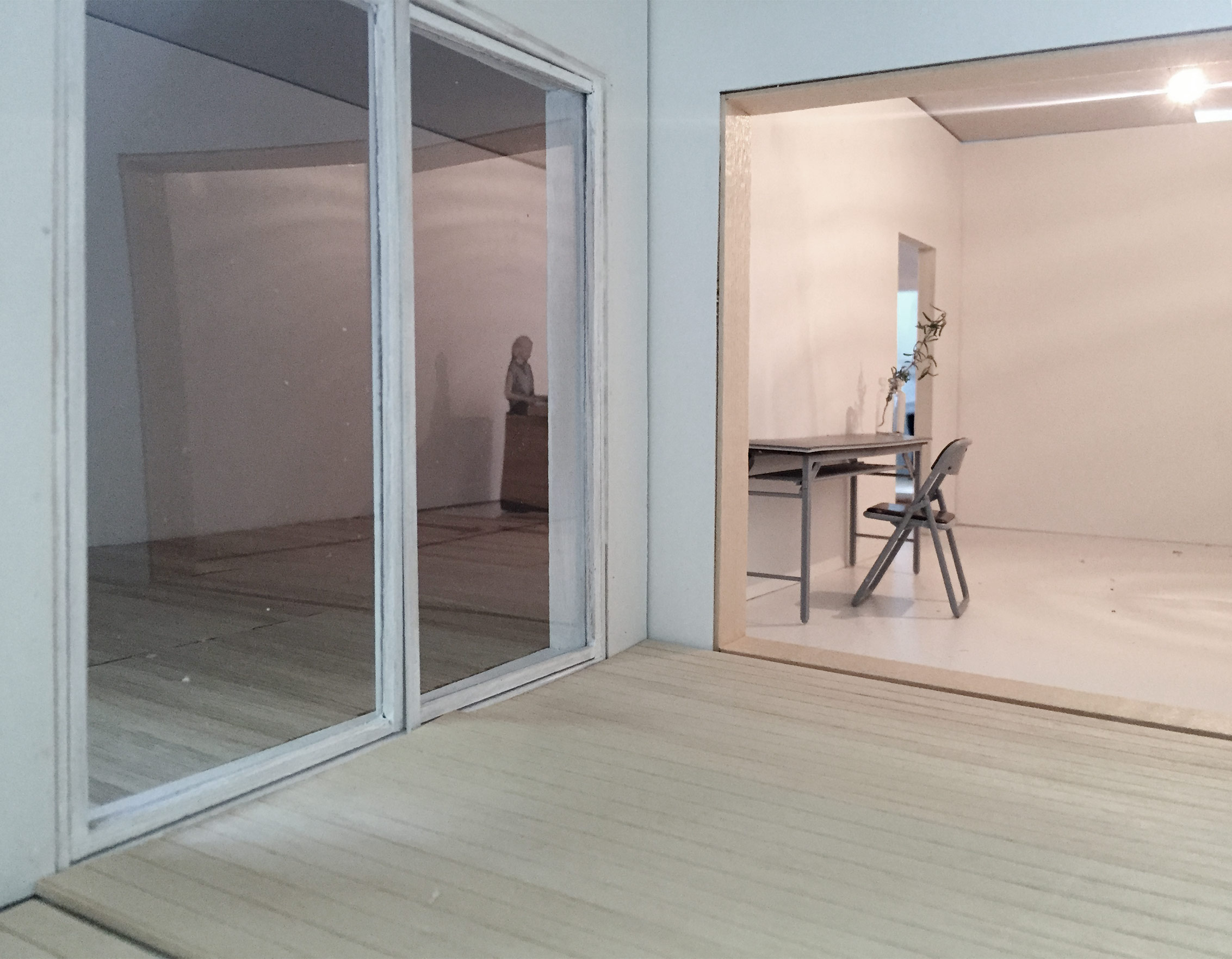 Diplom Theory
Prof. Dr. Juliane Rebentisch
The question of whether happiness can also be viewed as problematic, particularly as we encounter it in consumer capitalism, formed the basis of my theoretical work. The commodification of emotions and therefore of happiness too—in the role it plays within self-marketing—appears to be of importance. A happy individual can sell themselves better, gets sick less often and can thus achieve more, one might assume. Consequently, it is sensible to be happy, so as to increase the chances of finding a job, a partnership, or friendships. One could assume the state of being happy to be a definite seal of quality, a must-have. The question is, however, whether certain ideals of happiness, certain ideas and images of happiness, which are only just being created and marketed in this context by performative happiness research and the happiness industry, are not forming. It is exactly the happiness industry that leads us to believe that happiness is a commodity that can be produced on demand. However, the claim that we should simply be happy also has a flip side: what happens if we fail to be happy?
Geboren 1988 in Malsch
AUSBILDUNG
2007 Abitur an der Freien Waldorfschule Bremen
2009 Studium (Magister): Philosophie, Soziologie und Pädagogik an der Goethe-Universität Frankfurt (4 Semester)
2012 bis 2020, Studium (Diplom): Visuelle Kommunikation/Kunst an der Hochschule für Gestaltung Offenbach.
BERUFSPRAXIS
2007 Praktikum Kek Kindermuseum für Bremen e.V.
2008 Mitarbeit Kek Kindermuseum für Bremen e.V. (Museumspädagogische Tätigkeit, Führungen)
2008 Museumspädagogische Arbeit für Sonderausstellung Sitting Bull, Überseemuseum Bremen
2012 bis 2014, Studentische Aushilfskraft Kita Frankfurt im Hort und Kindergarten
2016 bis 2017, Ausstattung Kinder- und Jugend-Theater La Senty Menti bei Liora Hilb
WEITERE TÄTIGKEITEN
2010 Gründung Theater Ensemble EingeWeiht, Produktion Somewhere in the West
2011 Sängerin bei Mirvana in the groove kitchen
2018 Imkerin