BETA AID
Diplom Praxis
Prof. Peter Eckart
AI is progressively becoming a part of our physical reality. Due to the exponential growth in computing power, products that are not connected to the cloud are capable of executing AI algorithms too. Simple products can therefore become intelligent. My design BETA AID is an interactive dumbbell for rehabilitation aftercare. With the help of machine learning, the movement patterns of the aftercare training exercises are followed and stored via the dumbbell. BETA AID adapts individually to the user's movement patterns. These collaborative processes motivate users to master the emotional and psychological challenges of rehabilitation aftercare.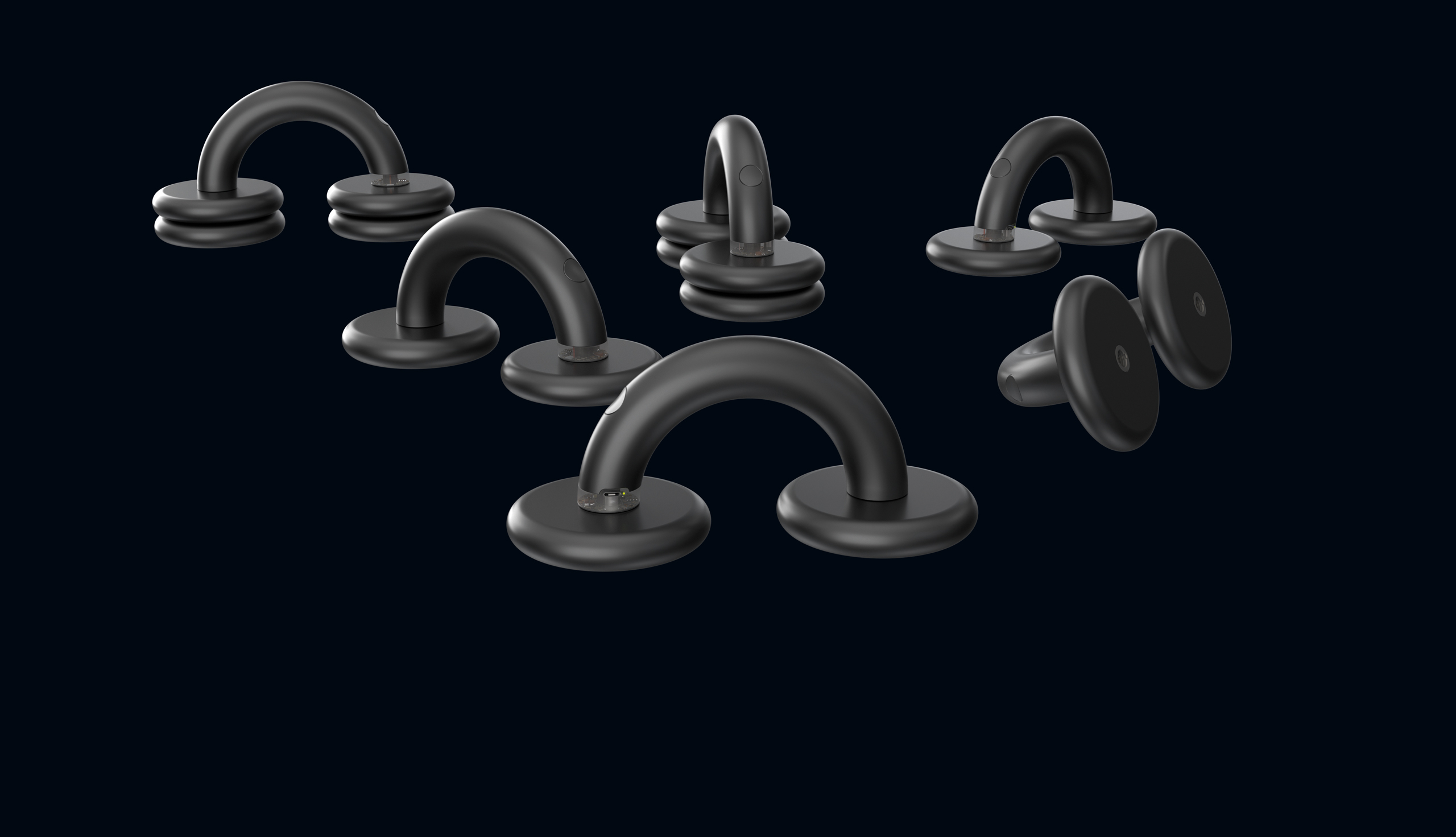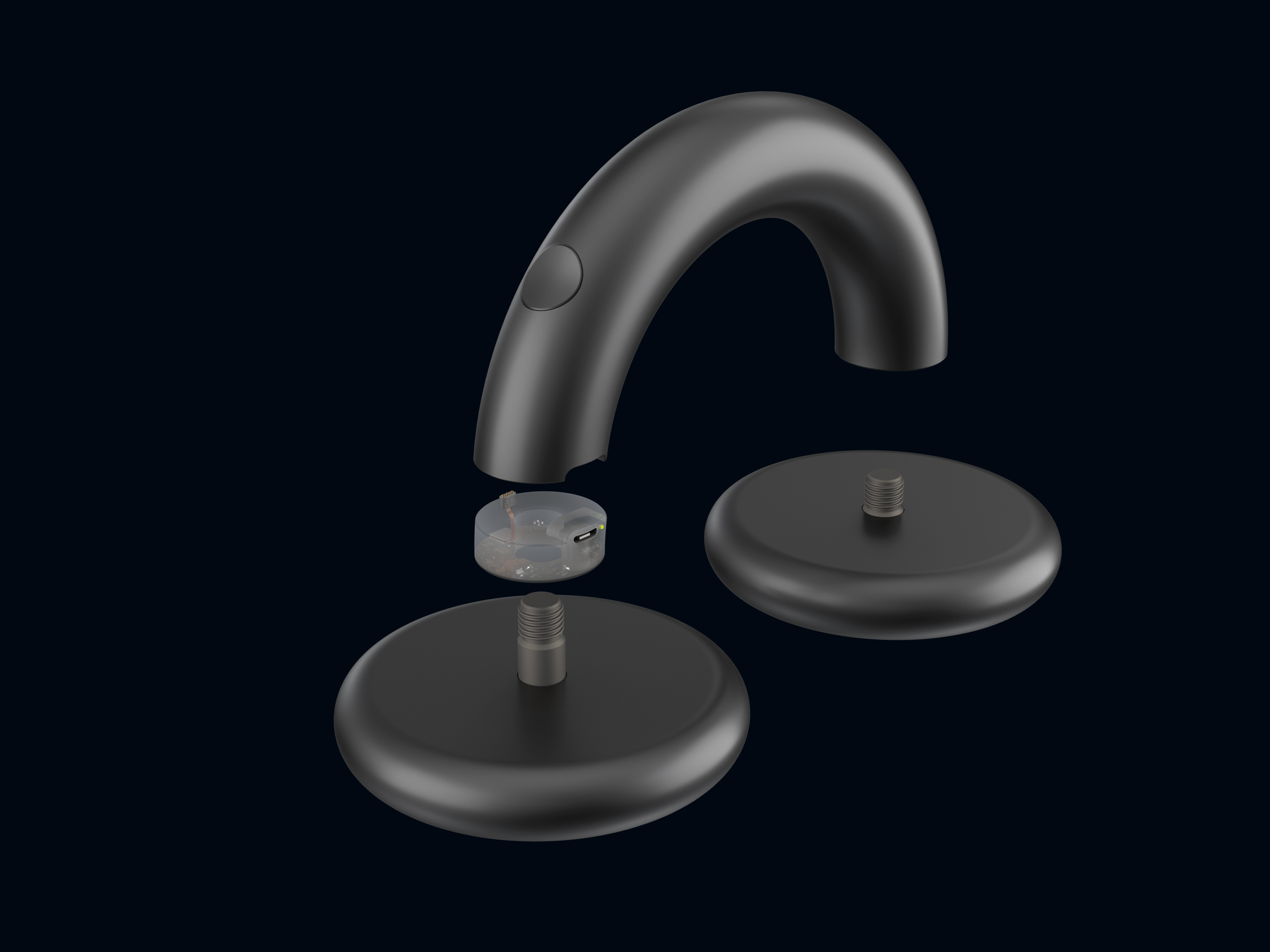 Diplom Theory
Prof. Dr. Klaus Klemp
For the theoretical side of my Diplom, I focused on the role of artificial intelligence in the design process and the extent to which design is affected by it. Both my practical and theoretical Diplom work is concerned with the effects of artificial intelligence in our present time, and the potential it has for our near future. The aim of my Diplom work was to explore how much has changed with regards to the roles that designers and design processes play. Furthermore, I sought to investigate the possibilities of positive interaction. In particular, I focused on questions relating to the influence these technologies will have in the future on society, daily product usage, and on us as designers.
Geboren 1992 in Lingen
AUSBILDUNG
2019 bis heute, Selbstständig, Designstudio Same, Berlin
2012 bis 2020, Diplom Design, HfG Offenbach
2018 Praktikum, LiF Freiraumobjekte, Meppen
2017 bis 2019, Werkstudentin, LiF Freiraumobjekte, Meppen
2016 Wissenschaftliche Mitarbeiterin, HfG Offenbach, Prof. Siglinde Spanihel
2011 Praktikum, Ev1.tv, Lingen
2004 bis 2011, Allgemeine Hochschulreife, Windthorst-Gymnasium Meppen
2009 Praktikum, Planungsbüro SCAPE, Düsseldorf
2003 bis 2004, Orientierungsstufe, Johannesschule Meppen
1999 bis 2003, Grundschule, Windthorst-Gymnasium Meppen
AUSSTELLUNGEN UND PUBLIKATIONEN
2017 Weiss, Rundgang HfG Offenbach, Offenbach
2017 Ceramic Woods, Nach der Natur, Sinclair Haus, Bad Homburg
2917 Fischleder, Nach der Natur, Sinclair Haus, Bad Homburg/ Passagen (imm) Galerie Freiraum, Köln
2016 Unter Waffen Fire & Forget 2, Museum Angewandte Kunst / HfG Offenbach, Mitarbeit Ausstellungskonzept, betreut von Matthias Wagner K
2016 Stefan Sagmeister, The Happy Show, Museum Angewandte Kunst /  HfG Offenbach, Mitarbeit Ausstellungskonzept, betreut von Matthias Wagner K
2016 CMBS, Rundgang HfG Offenbach, Offenbach
2016 Fischleder, Rundgang HfG Offenbach, Offenbach
2016 Shift Table, Rundgang HfG Offenbach, Offenbach/ Jahresbericht HfG Offenbach
2016 Ceramic Woods, Material Xperience, Rotterdam/Passagen (imm) Galerie Freiraum, Köln/ Interiorfashion Magazin
2016 Theorietext, Alles Neu! Ausstellungskatalog Museum Angewandte Kunst
2015 Ceramic Woods Bundesrat Amtsübergabe, Berlin/ Bauwelt Magazin
2015 Aida Container, Rundgang HfG Offenbach, Offenbach
2015 Shift Table, Jahresbericht HfG Offenbach
2014 _=^ , Rundgang HfG Offenbach, Offenbach
2014 Capta, Rundgang HfG Offenbach, Offenbach
2014 Pasta, gout 9 Sheraton, Offenbach/ imm Möbelmesse, Köln/ Ambiente, Frankfurt/ Jahresbericht HfG Offenbach/ Transmateria/ pastastudies.de/ Frankfurter Rundschau
2014 Ceramic Woods mit James Weaver, Offenbach, 2013/14/ gout 9 Sheraton, Offenbach/ Ventura Lambrate, Mailand/ Orgatec, Köln/ Materialdesign1/ Bau-Bionik, Nachtigall/ Material Grove, Markus Holzbach & Georg Bertsch/ Design Report/ Haute Innovation/ Jahresbericht HfG Offenbach